SELF-STORAGE vs FULL-SERVICE STORAGE
Which Is the right storage option for me?
If you're in the midst of moving but have recently discovered that you're a hoarder, you're going to need somewhere to put all of that extra furniture, the documents, the household goods, and maybe some things that won't explode.
When looking at storage facilities, there are a couple of things that you'll need to decide on. The first and most important being the type and of course, what you're wanting to store inside. When it comes to renting out a storage facility for your valuable items, you can either go with self-storage facilities or, with the full-service storage option. Not familiar with both of those terms? Don't worry! As always, we're here to help out with all of your moving and storage needs.
Without further ado, let's find out what's going to make your life easier.

Self-Storage
If you've ever driven on the highway and came across row after row of painted garage doors, then you have probably heard of a self-storage facility before. This type of storage facility is what is known as ''drive-up access'' due to the fact that you're able to pull up right next to it with your vehicle and load up your items directly.
Believe it or not, self-storage spaces were the only ones available when the whole concept of storing space units came into practice. However, as the industry evolved, companies began to realize that storage facilities that were temperature-controlled and protected from the elements were a much better choice for consumers. So, they began to build storage facilities that offered both indoor storage units, and the aforementioned drive-up style self-storage facility.
Full-Service Storage
Then, we introduce full-service storage companies. These are commonly known as on-demand storage or valet storage. Operations like this are made to provide you with convenience and peace of mind. Full-service storage companies will pick up, store, and return or deliver your stored items upon request.
Once you have prepared your boxes and your other items are all ready to go, all you have to do is schedule an appointment to arrange a pick up by your chosen company. Once on-site, companies will usually photograph and complete an inventory of the contents of each box and item. Upon entry to a computer system, you'll be able to log in to your account and inspect the inventory list to view the photographs and see what you have actually stored.
When all is said and done, your items will be stored at the company's warehouse which can be located in the city, or a few miles away depending on where you've chosen. Bear in mind, this can decide how much time it can take to receive your delivery.

Pros and Cons of Self-Storage vs. Full-Service Storage
Now that we know what both are, let's take a look at how they compare with a pros and cons list!

SELF-STORAGE
Pro: A big pro to self-storage is the fact that you have access to your things whenever you need them. Did you instantly regret packing away that couch your wife hates after she's annoyed you in some way? Go and get it just to rub it in her face.
Pro: Cheaper than full service storage.
Pro: In some cases, no chance of mishaps, you're the only person that has access to your belongings when ever needed with having to book access to it.
Pro: Private rooms with your own lock and private access KEY/CODE
Con: Not all self-storage facilities are the same. Some may lack security, cleanliness, pest control, and customer service.
Con: In most cases, a storage agreement will have to be signed. The length will depend on you storage facility terms and conditions.
Con: You might end up paying for more space than needed
FULL-SERVICE STORAGE
Pro: Full convenience as items are picked up and delivered directly to a requested location.
Pro: Too lazy to pack or just don't have the time? Some companies will pack all of your belongings for you.
Pro: Peace of mind that your items are safe in a storage facility that will cater to your every need from security, temperature and pest control, and great customer service.
Pro: Easily retrieve storage items:

When you have anything in our storage facilities, send us a message and we'll get what's yours back to you.

Pro: Minimum storage terms

Climate-controlled

 storage facilities for temperature-sensitive items
Pro:: No issues with space. Most moving and storage companies have lots of space, and with this service, you will only pay for the space needed, nothing more.
Con: Pickup and delivery fees
Con: You have to book an appointment to retrieve your stuff
Con: Limited access. Cannot visit the storage site to get stuff out yourself – must be delivered
WHAT YOU CAN'T STORE IN STORAGE FACILITIES.
KEEP ALWAYS IN MIND: When looking to put your items in storage facilities, there are often questions asked about what types of items are not permitted inside. In order to answer this simply, we've created a fun infographic! Check it out below –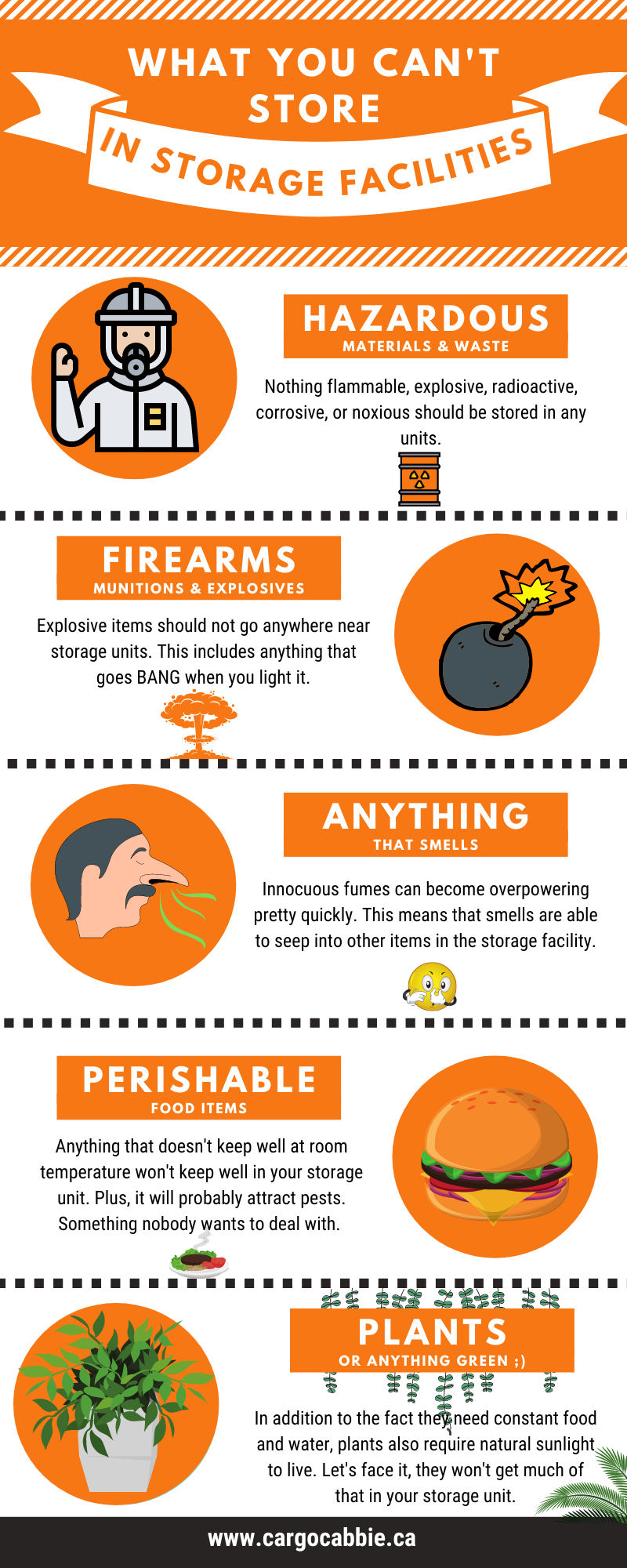 IS SELF STORAGE BETTER THAN FULL SERVICE?
It will depend on your own needs and requirements. When considering storage unit's or facilities, pricing will depend on several factors, including the space, size of the unit, where you're renting the unit and how long you're renting the unit. Other addons features that can be purchased include climate control, indoor unit versus an outdoor unit, items stored (RV vs. boxes), level and quality of service (self-storage vs. full service), other products such as packing bins and moving supplies, labour, and insurance (many storage items can be covered by "off-premises home insurance coverage"), You can always check with your home insurance, or even credit cards like visa, in some cases will have included some level of protection or insurance coverage.
What should I look for in a storage space?
When browsing and searching for different storage facilities and their amenities, make sure to consider these key factors:
Climate / temperature control
Accessibility. Ask about access, do they offer 24-hour access to the storage units? Are they open on Sundays? What about holidays?

Be sure that the storage facility's hours match your availability before signing for a unit.

Number of locks needed
Is Video monitoring / surveillance available?
In-person security
Pricing, terms and conditions offered
How much space is available
Overall safety and security of the facility
Lighting. how well-lit is the facility?
Last but not least, Online reviews matter
FREQUENTLY ASKED QUESTIONS ABOUT SELF STORAGE VS FULL SERVICE STORAGE

When should I go for Short-term storage?
You might need short-term-storage if:
You're renovating your home and need a place to put some of your items.
You might be planning a move but you are renting until you find the perfect space.
You want to keep your seasonal items within reach without all the hassle
Don't have space for all that furniture you aren't quite ready to part with.
What Happens if i need more space?
 There is no need to worry about running out of space if you decide to go with the full service route. Most moving and storage companies operate with large warehouses and they can easily add that extra square footage without the hassle, so you will never have to pay for space your don't need. With the help of our Logistics Specialists, you can create a flawless moving plan for your next move that, in turn, will help us determine which size of room to recommend.
Should I tip the movers?
We all know that tipping is customary in many situations – we are familiar with how much we should tip the person who serves us food, makes us a drink, drives us around, or cleans our home.
But if you are hiring movers for the first time, you are probably unsure about what the proper etiquette is for tipping movers and packers. Here's what you need to know. Read more
Do I need a climate-controlled storage?
If you leave in Canada, and you value your items, furniture and art. Most likely you will rather store your valuables in an indoor storage facility where the temperature will be between 15° and 20° degrees Celsius.
How is the cost of a storage space estimated?
How much the cost will be, is based on how much space is needed and how long you will store. Typically, Self-storage facilities offer contracts on a month-to-month basis. This way, the customer has the option to store for short or long-term. Contracts offered by full-service storage facilities vary from company to company. Some WILL ONLY HAVE A SEVE DAYS MINIMUM POLICY minimum, while others offer month-to-month services.
Always ask your storage company about deals, promos for long-term storage.
Where can I find a storage unit?
You can contact our team any time, we are always happy to help with help or advice. Alternately, you can always request a move with us into xyz storage in Toronto here.
ABOUT CARGO CABBIE FULL SERVICE MOVING AND STORAGE
Whether you need a small storage unit for a few items or a large space ober 500 square feet to hold all of your furniture during a long distance move, CARGOCABBIE can get you set up with a great price and a greater variety of  options. Perfect for all moving and storage needs, our facilities are different from other moving and storage companies with climate controlled units, 24/7 vigilance, video monitoring and rooms cleaned daily to prevent dust accumulation and pests.
In addition, all facilities are equipped with 24-hour security, onsite security personnel, and constant video monitoring.
Free no obligation estimates get an estimate

Climate-controlled

 storage rooms available for temperature-sensitive items
Pick-Up & Drop-Off service means we come to you, safely wrap and load your items, then transport them to your unit. You never have to lift a finger or even step foot inside your storage space again.
When it comes to decluttering, we can help with furniture removal or disposal 

too

Cargo Cabbie Box Shop

not only has everything you will need to get moving, but also, has delivery options and all the essentials you need.
On-site security personnel are trained and passionate about keeping your possessions safe.
Our customer support team is here to help for any needs or concerns that arise.
We've been the premier

Movers in Toronto

for decade, so we've confidently navigated the GTA areas
FINAL THOUGHTS
Through all of this, remember that are plenty of storage options and facilities available. If you feel good about booking your storage move, go for it. Use common sense, do your research and hire reputable service providers like CARGO CABBIE on Homestars.  We are always happy to work with you.