ARE YOU READY FOR A UNIQUE MOVING EXPERIENCE?
Setting a new standard in the moving industry. We have been on top of the ranks and highly rated among the best movers in the city, we have been voted Toronto's best moving companies Six years in a row on websites like HomeStars, Houzz, Notable.ca and BlogTO.
A unique local moving company offering a variety of outstanding White Globe moving and packing services from small single item moves to large scale commercial and residential moves.. we are here to help!
LET US SHOW YOU HOW WE DO IT!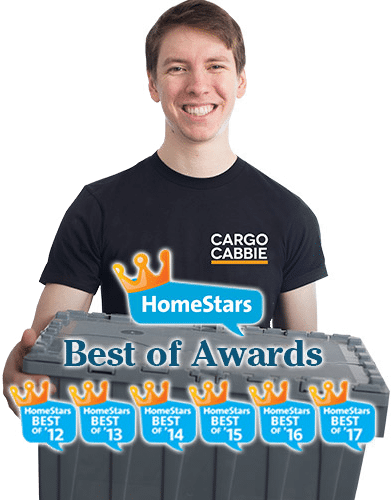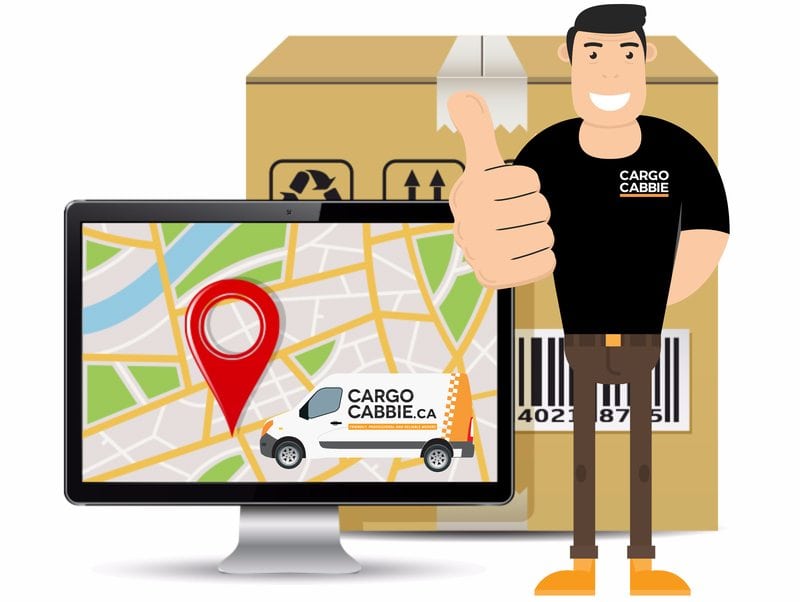 HOW TO BOOK THE BEST MOVERS IN TORONTO, ON
Moving is stressful. Regardless of the distance, amount of stuff, time or reasons, it is never an easy process. At Cargo Cabbie we have come up with a system that helps us estimate the duration, and estimated cost of your upcoming move so that you can get moving with confidence, no extra charges or unwanted surprises.
From parking details, number of boxes to be moved to how far is the walking distance from your home to the truck, these are all details that can impact the duration of your move. These are but some of the details we will require in order to be as precise as possible when estimating your job. We at Cargo Cabbie tailor the crew and the process to your needs and your comfort, making all moves as hassle-free as possible. The more details you provide, the more accurate your estimate will be.
BOOK TODAY WITH THE BEST AND AVOID STRESS.
Experience The Cargo Cabbie Difference
WHEN IT COMES TO PROFESSIONAL MOVING,
NOT ALL MOVERS ARE THE SAME.
When booking with Cargo Cabbie rest assured you're in good hands.From the moment our crews arrive they get to work protecting floors, banisters and other areas of your home in the moving path.Additionally, we wrap and protect each and every piece of furniture with appropriate moving supplies to make sure your possessions arrive in the same condition they were picked up in. Make no mistake at Cargo Cabbie we became known for doing things by the book, so you can have confidence in us.

We are proud of our customers' experiences with our service and continue to make customer satisfaction our #1 priority.
Hi, I am a recent customer of Cargo Cabbie and a thoroughly satisfied one at that! My move was small but the efficient service and cheerful treatment was large. Peter
Peter from

Toronto

gave us a
Hello! I wanted to thank everyone at Cargo Cabbie who helped from beginning to end with mine and my boyfriend's move yesterday morning. Graham and Chris were fantastic! Everything went as smooth as it possibly could! Thank you for the amazing service! Heather
Heather B. from

Toronto

gave us a
Thanks for everything Kate! We will be happily providing a great review on HomeStars. Our thanks to Clayton, Michael, Angus, Johnathon, you and the whole team. Please do let Javier know we think you guys are awesome!! We have already recommended you to our property manager.Louise & Cam
Louise & Cam from

Toronto

gave us a
Thanks, Javier. I would like to commend your staff, both office and moving day guys, for friendly, punctual, and professional service. The entire experience with your company had been truly excellent. I won't hesitate to highly recommend cargo Cabbie. Regards, Sara
Sara Heinonen from

Toronto

gave us a
The team (Javier, Cam, Jack and John)were Terrific guys and provided outstanding service. I am very impressed and happy with the outcome of my move with Cargo Cabbie. This was the best team ever!
Jenna M. from

Toronto

gave us a
Very happy with the team. Your movers were quick, punctual and polite, in fact, they were the best movers I've ever used, and I moved many times. Happy with my decision and will be calling you again soon, we will require some help with my parents move. Thanks!
Vicky from

in Riverdale

gave us a
I used Cargo Cabbie for my family's home move. The crew was SUPER helpful, polite and respectful and fast. they delivered all the supplies Thanks for taking great care of us. Will get back with our next small move from storage. Take care.
Donato Coladipietro from

Toronto

gave us a
I used Cargo Cabbie for my family's home move. The crew was SUPER helpful, polite and respectful and fast. they delivered all the supplies Thanks for taking great care of us. Will get back with our next small move from storage. Take care.
Max from

Toronto

gave us a
Cargo Cabbie is FANTASTIC! Our peewee hockey team hit a road-bump in our annual fundraiser, requiring us to move more than 100 huge boxes. Cargo Cabbie jumped in to save the day. they leaving us with enough money to enter a second tourney.
Elaine from

Toronto

gave us a
As good as my last move. The crew at Cargo cabbie helped me relocate my office. This time I used their packing services as I had to complete the entire move within 48 hours.They were on time, polite and really cared about making the process easy on me.
Jeremy Nobel from

Toronto

gave us a
Book Your Storage Move With us!
We know how to store your stuff
Clean and secure facilities
Always, professional teams on every job
We are licensed, insured and bonded
A+ Rating – BBB accredited business
Certified by the Canadian association of movers (CAM)
We work with some of the best self storage facilities in the city
We can assist with a variety of storage solutions for home and business
Short and long term storage available
Years of proven reputation and experience
Customer service is our #1 priority
Learn more!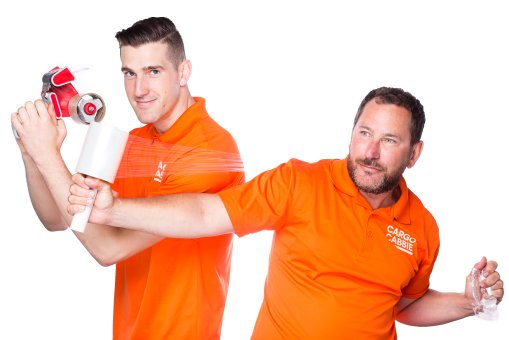 WE ARE HERE FOR YOU.
WE PROVIDE A COMPLETE HASSLE-FREE MOVING EXPERIENCE WITH FRIENDLY MOVERS
Moving does not have to be painful. Our goal is to provide the highest quality moving and packing services possible. Our movers and packers are fast, friendly, non-smoking, and perform each and every job with the utmost personalized service and care.
Our friendly staff go that extra mile to make sure your move is as stress-free, fast and affordable as possible. We offer a low 1-hour minimum with no travel charges within downtown, and you only pay for the time used. Come and discover the Cargo Cabbie Difference: Your Friendly, Fast and Professional Moving and Packing Service. For your residential or office move, big or small we are Toronto's best local movers.
Jonathan – Operations Manager
Javier – Founder
CARGO CABBIE MOVING – VOTED BEST MOVERS SINCE 2012-2017
Cargo Cabbie Toronto Movers is a local moving company predominantly servicing downtown Toronto and the Greater Toronto Area. We specialize in residential, full service home and business moves, but we're more than just a moving company.
We offer a full range of services and products, from packing assistance, supplies to moving and storage for your belongings. Best of all, we also do our part to go green by establishing a convenient bin-rental service that encourages our customers to choose more environmentally sustainable options during their move.
Over the years, we have moved thousands of happy clients into, out of, and across the Greater Toronto Area. Our main goal is to ensure that every aspect of your move is efficient, secure, and stress-free. We provide free estimates that can be easily accessed throughout our website that gives you a pretty accurate prediction of what your move will cost. We are always upfront about our costs!
When you move with us, you can rest assured that you're in good hands. Cargo Cabbie is registered, licensed, bonded, and fully insured, so you know we take our moves seriously. We pride ourselves in having the most well-trained, highly experienced packing and moving experts on our exceptional team.
Our high standards, level of professionalism, and unmatched customer service are only a few things that make us stand out from other moving companies. We have – and continue to – work hard every day to maintain our reputation as Toronto's Best Movers. Whether we're moving clients, family, or friends, we treat every move with the same level of commitment and priority. When you need professional movers in Toronto and the Greater Toronto Area, be sure to book your move with us and experience the Cargo Cabbie Difference!
Call us!
YOUR DEDICATED MOVING TEAM IS HERE TO HELP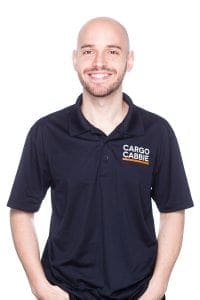 Amir
Booking & Moving Coordinator
Kate
Senior Logistics Coordinator
Theresa
Office Manager, Logistics Expert
 Jonathan
Our Operations Manager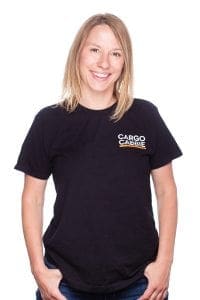 Krystyna
Customer & Moving Team Support
MAKE YOUR PACK, MOVE & UN-PACK HASSLE FREE WITH OUR MOVING BINS
Cargo Cabbie offers a variety of moving boxes and packing supplies delivered straight to your home to make your upcoming move or pack as easy as possible.
Having the right packing supplies ensures that your valuables will be protected while in transit, and will arrive at their destination in the same condition they were when they left.
With any move or pack, time is valuable. Our box delivery service helps save you time, money and headaches by bringing your boxes and packing supplies directly to you, saving you from the hassle of getting them home yourself.
No matter whether Cargo Cabbie is taking care of your move or pack for you, or just making sure that you are prepared with the right tools for the job… We've got you covered!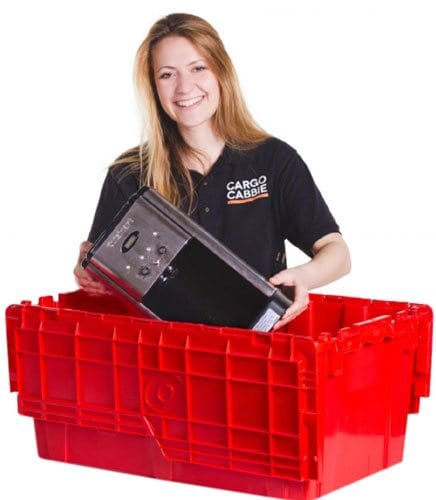 Need help?  Call our award-winning moving team at (647)478-5422