BEST MOVING COMPANIES IN TORONTO
See Why We Were Awarded Best Movers in Toronto Six straight Years In a Row!
VOTED BEST MOVING COMPANIES IN TORONTO SIX CONSECUTIVE YEARS!
Setting a new standard in the moving industry, Keeping it steady on top of the ranks and best rated among the best movers in the city, we have been voted Toronto's best moving companies Six years in a row on websites like HomeStars, Houzz and BlogTO.
A Unique Moving Experience. We are a True local moving company offering a variety of outstanding White Globe moving and packing services from small single item moves to large scale commercial and residential moves.. we are here to help!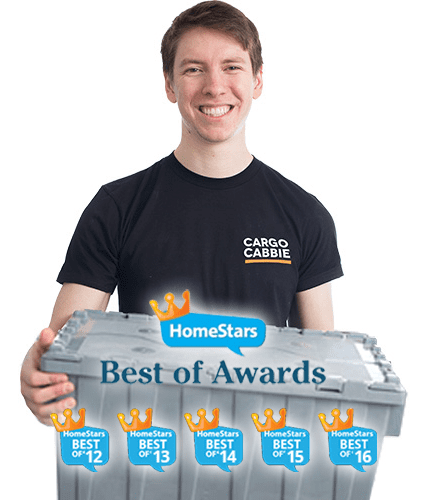 Experience The Cargo Cabbie Difference

We are proud of our customers' experiences with our service and continue to make customer satisfaction our #1 priority.
The team (Javier, Cam, Jack and John)were Terrific guys and provided outstanding service. I am very impressed and happy with the outcome of my move with Cargo Cabbie. This was the best team ever!
Jenna M. from

Toronto

gave us a
Very happy with the team. Your movers were quick, punctual and polite, in fact, they were the best movers I've ever used, and I moved many times. Happy with my decision and will be calling you again soon, we will require some help with my parents move. Thanks!
Vicky from

in Riverdale

gave us a
I used Cargo Cabbie for my family's home move. The crew was SUPER helpful, polite and respectful and fast. they delivered all the supplies Thanks for taking great care of us. Will get back with our next small move from storage. Take care.
Donato Coladipietro from

Toronto

gave us a
I used Cargo Cabbie for my family's home move. The crew was SUPER helpful, polite and respectful and fast. they delivered all the supplies Thanks for taking great care of us. Will get back with our next small move from storage. Take care.
Max from

Toronto

gave us a
Cargo Cabbie is FANTASTIC! Our peewee hockey team hit a road-bump in our annual fundraiser, requiring us to move more than 100 huge boxes. Cargo Cabbie jumped in to save the day. they leaving us with enough money to enter a second tourney.
Elaine from

Toronto

gave us a
As good as my last move. The crew at Cargo cabbie helped me relocate my office. This time I used their packing services as I had to complete the entire move within 48 hours.They were on time, polite and really cared about making the process easy on me.
Jeremy Nobel from

Toronto

gave us a
In addition to the great office staff, the two movers quickly manoeuvred our prized bookshelf through a tight staircase without as much as a scratch. I would highly recommend Cargo Cabbie to anyone. Cargo Cabbie is better then other moving company.
Jon from

from Toronto

gave us a
We found Cargo Cabbie through the Better Business Bureau and researched their reputation through various internet review sites. Their high reputation is very well deserved. On the day of the move they showed up on time with Javier and 5 movers.
David D from

from Mississauga

gave us a
After such an excellent experience using Javier and his team to move my partner and I into our new home, we didn't hesitate to hire them again to pick up furniture we purchased across town and deliver it to our house.Thanks Javier for helping us!
Alissa from

Toronto

gave us a
I organized a move on behalf of a client and called Cargo Cabbie because of their high rating and recommendations on Homestars. They did not disappoint.Professional and efficient, they packed absolutely and unloaded at the self storage locker.
Inga T. from

from Toronto

gave us a
Here Is Why You Should Book With Us
Voted Toronto's Best Moving Company since 2012
Clean cut, Polite movers
Professional teams on every job
Fully insured, Lisensed and bonded
Simple, online-based booking process
Friendly, efficient booking coordinators
No hidden fees
Clean moving blankets, shrink
wrap and tape included
Floor runners if needed or requested
Attention to detail in all aspects of each move
Call Us Now!

WE KEEP IT SIMPLE & FRIENDLY
Moving does not have to be painful. Our goal is to provide the highest quality moving and packing services possible. Our movers and packers are fast, friendly, non-smoking, and perform each and every job with the utmost personalized service and care.
Our friendly staff go that extra mile to make sure your move is as stress-free, fast and affordable as possible. We offer a low 1-hour minimum with no travel charges within downtown, and you only pay for the time used. Come and discover the Cargo Cabbie Difference: Your Friendly, Fast and Professional Moving and Packing Service. For your residential or office move, big or small we are Toronto's best local movers.
Javier
Founder and Director of Operations
CARGO CABBIE MOVING – VOTED BEST MOVERS SINCE 2012-2017

Cargo Cabbie Movers Toronto, Is a local moving company offering White globe residential moving services from Toronto central to all GTA, we excel on commercial and business moving services, small moves, deliveries, condo moving, storage moves, packing supplies, bin rentals and much more!
Over the past Seven Years We have moved thousands of happy clients into, out of, and across the Greater Toronto areas.
Our main goal is to ensure your move is as Quick, Simple, safe, and stress-free as possible. We offer free estimates through our online system so there are no unexpected costs on moving day.
Cargo Cabbie Inc is Registered, licensed, bonded, fully insured, and has an exceptional Team of highly trained in all proper packing and handling techniques packers and movers to safely pack and transport your valuable Items.
Our high standards of professionalism and super friendly, courteous service are incomparable. We have worked extremely hard to earn our reputation, The title of Best movers and we strive each and every day to ensure every client we serve experience why we were Voted best moving companies Toronto since we started moving families, clients and friends. When searching for professional movers Toronto, Book Your Upcoming Move with Cargo Cabbie Movers Inc. You wont be disappointed!
Call us!
MAKE YOUR PACK, MOVE & UN-PACK HEADACHE FREE
Cargo Cabbie offers a variety of moving boxes and packing supplies delivered straight to your home to make your upcoming move or pack as easy as possible.
Having the right packing supplies ensures that your valuables will be protected while in transit, and will arrive at their destination in the same condition they were when they left.
With any move or pack, time is valuable. Our box delivery service helps save you time, money and headaches by bringing your boxes and packing supplies directly to you, saving you from the hassle of getting them home yourself.
No matter whether Cargo Cabbie is taking care of your move or pack for you, or just making sure that you are prepared with the right tools for the job… We've got you covered!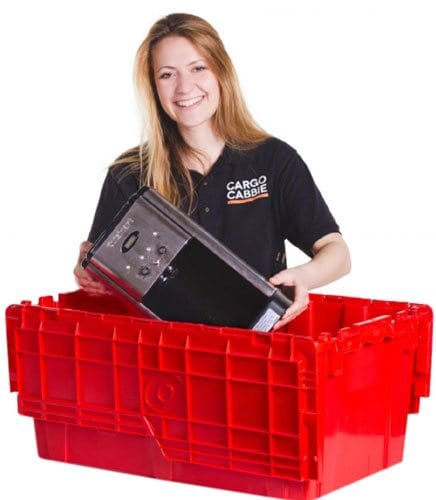 Need help?  Call our award-winning moving team at (647)478-5422