MOVING DURING COVID
Thankfully, Cargo Cabbie is able to operate in Toronto and the GTA during the COVID-19 outbreak under the  class order issued by Toronto's Medical Officer of Health on April 1. as it stands. In this article, we'll be elaborating how movers like Cargo Cabbie Moving will likely be able to operate during the outbreak,
Can you move in Toronto during the coronavirus pandemic?
The answer is yes. Moving companies are considered an essential service in Toronto, Ontario, Canada, meaning, movers in Toronto are in line with institutions such as hospitals and pharmacies that are deemed necessary to operate should emergencies like COVID-19 happen. That's because moving companies can help provide essential logistical and transportation support that can aid in the delivery of much needed supplies, equipment and other tasks.
Keeping Toronto And The GTA Moving During COVID-19
In turn, this also means movers moving the six area can continue providing services to their clients, as long as they're in locations that allow moving operations. Movers that continue to serve clients, should have guidelines that help explain to their clients how they plan on ensuring their protection during the transportation and moving process.
The impact of the new coronavirus disease, COVID-19, is being felt around the world. We believe we are better when we work together. It's important for us all to take the necessary steps to keep ourselves, our loved ones, and our local and global communities safe and supported.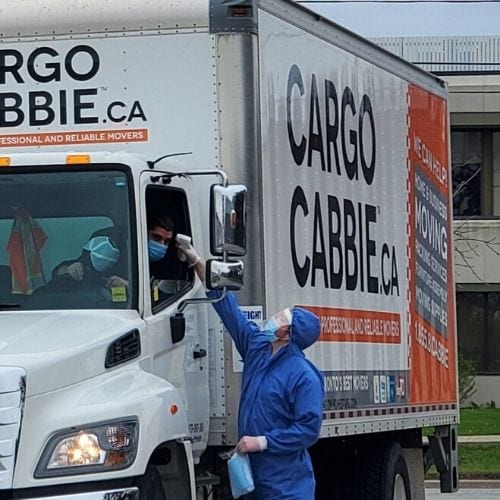 Moving and COVID-19: Good news!, You can still move!!
As the situation with COVID-19 continues to evolve. We are keeping up-to-date on the virus and are taking the recommended steps and precautions. Healthy, safety and well-being of clients and employees is our top priority.
At this time, the Cargo Cabbie office is open, and business will operate at a reduced capacity.
Cargo Cabbie provides moving and storage services to businesses and individuals and can operate as per the List of Essential Workplaces released by the Ontario Government and the Officer of the Premier
Health & Safety Precautions we take moving during coronavirus pandemic
Postpone and reschedule jobs when possible
Communicate to clients and employees about health and safety measures
Request clients and employees adhere to physical distancing of 2 meters
Limit crews to no more than five workers
Wear nitrile gloves and masks
Wash hands regularly with soap and water

Disinfect surfaces of homes and trucks

Require clients and employees to report if they are ill, have been in contact with anyone that has been ill and have recently traveled outside of Canada.
Moving during Coronavirus
How to prevent the spread of COVID-19 in 7 STEPS
Wash your hands frequently
Avoid touching your eyes, nose and mouth
Cover your cough using the bend of your elbow or a tissue
Avoid crowded places and close contact with anyone that has fever or cough
Stay at home if you feel unwell
If you have a fever, cough and difficulty breathing, seek medical care early – but call first
Get information from trusted sources
Moving During Covid-19
How can I prepare to move during COVID-19?
Send us pictures of the items to be moved and get an estimate
Designate one person to oversee the move
Make sure you have hand soap, paper towels, hand sanitizer or disinfecting wipes available for yourself and crew members on moving day
Donate food you don't need to local area charities
Costco, Cargo Cabbie Box Shop and Walmart all have delivery options and have the essentials you need.
Use disinfectant sprays for areas that can't be wiped clean. You can use Lysol, for example, on your couches and mattresses.
Don't forget to disinfect items that are frequently touched – your phone, computer and accessories like, your television remote controls (here's how to clean keyboards), credit cards, wallet, and more.
FINAL THOUGHTS
Through all of this, remember that we will get through this as a community. If you feel uncomfortable or scared about your upcoming pack or move, ask us about postponing your move. We are always happy to work with you.
Essential workplaces in Ontario and controlling the spread of COVID-19.
A list of Ontario's designated essential workplaces can be found here: https://www.ontario.ca/page/list-essential-workplaces. The businesses reflected on the list are necessary to ensure the health and well-being of all Ontarians, while supporting Ontario's strong economy in a way that is safe and appropriate for today's reality. If you have questions or concerns about this list, please call the Stop the Spread Business Information Line at 1-888-444-3659.
We will continue to keep all Ontarians informed of any updates. Alternatively, you can find the latest available information online at www.ontario.ca/coronavirus.