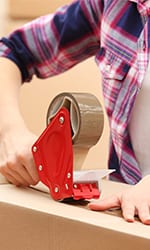 Moving can be a real pain, and if you don't have a plan, you could be stuck packing and unpacking unreliable cardboard boxes for hours. Cargo Cabbie has made it easy, by revolutionizing the way you pack, stack, and relax. Ecofriendly Plastic bin rentals are the easiest, most cost-effective way to move. Try stacking heavy items like books on the bottom, and fill the top with items that normally wouldn't stack very well, such as small appliances like fans and heaters, storage boxes, etc.  With Cargo Cabbie's reusable bins, you don't need to worry about unusually shaped items. Your reusable bins will always stack well, no matter how many hard-to-pack items you have. Not only does it make packing up your moving truck a dream, it's the superior alternative to cardboard boxes.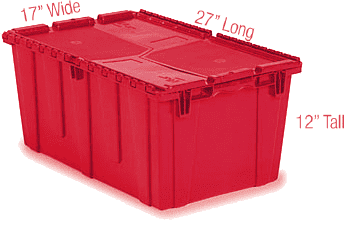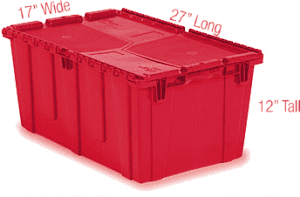 Here's why:
Cargo Cabbie's reusable plastic bins are the eco-friendly choice. Strong durable plastic means no tape, no knives, no hassle. They're easy to pack up, and even easier to unpack. Unlike cardboard boxes that come in all different sizes and depths, the uniform size of Cargo Cabbie's reusable plastic bins will make unpacking simple, as you can arrange your empty bins in a neat stack as you unload your belongings into your new home. Ergonomic handles means you'll never have a handle break under the weight of your valuables, unlike cardboard boxes. Did your shampoo leak a bit from your toiletries box? Don't sweat the small stuff – unlike a cardboard box that will become soggy and leak on your other boxes, you can quickly wipe up any spills with confidence that your other belongings are dry. Moving in the rain? No problem. Our reusable plastic bins are water resistant and even have gripped feet to ensure a safe and reliable move.
The best part? We'll deliver them to you, and pick them up whenever you're done, at no cost. Pack like a pro, and trust the best Moving Company in Toronto, Cargo Cabbie.
Your local full-service Toronto movers: Cargo Cabbie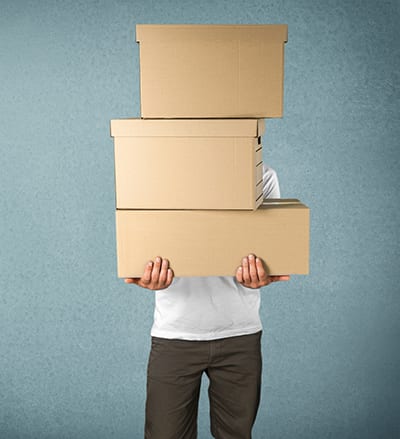 According to internationally licensed psychotherapist Richard Zwolinksi, moving ranks in the Top 10 in the list of top 20 stressors that cause anxiety. It's no surprise to anyone that has gone through a move without being prepared – moving is stressful. Wouldn't it be nice to put your feet up with a bottle of Pinot Grigio, your comfiest slippers, and oversee a team of professional packing experts do your packing for you?
Well, you absolutely can.
Proper packing is absolutely integral to any move – making sure it's done properly the first time, means you'll save time when you're unpacking as well. Cargo Cabbie's full-service movers will provide all the materials needed to wrap and protect fragile antiques, hard to pack computer equipment, asymmetrical kitchen items, and more. Cargo Cabbie is an award-winning Packing and Moving Service, and was even voted Best Movers in Toronto on blogTO and Homestars.com. You can be confident that our packing estimates are clear and upfront, and our staff is polite and seasoned packing experts.
There are some things in life that are simply not worth the stress. Cargo Cabbie will make your move quick, easy, and relaxing. You're not going to know what to do with all your spare time! So book that wine tour and get a hotel. Go up to your cottage for the weekend. Take a trip to a ski chalet. Relax, knowing that Cargo Cabbie has taken care of your move.