Here's How it Works
At CARGO CABBIE® we are committed to the health and safety of our customers and employees. When you place an order online. You can either collect your order at front-store service door or choose contactless curbside pick-up and one of our friendly reps will bring your order to your vehicle. We provide fast next day deliveries for all orders above $200 placed before 5pm. Delivery costs range from $50 and up depending on your location.
CURBSIDE PICK-UPS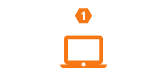 SELECTING PICK-UP
When placing an order online, select "Curbside-pick-up" from the options in your cart.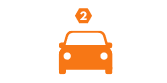 PICKING-UP THE ORDER
After you receive an email confirming that your order is ready, head to the store to collect your order from the in-store service desk. Remember to bring your order number and a photo ID.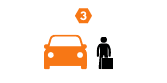 CONTACTLESS PICK-UP
For contactless curbside pick-up, drive to the back of the building/store and park in the designated loading area. There will be signage guiding your way with our telephone number. Have your order number and photo ID on-hand. Open the back of your vehicle when our rep brings to you the order.
GETTING MY ORDER DELIVERED
Condos, homes, and business supply deliveries.  We provide deliveries on orders over $200 before taxes within our local area of Etobicoke.  All orders placed before 5pm are eligible for next-business-day delivery. The delivery area COST is defined by postal codes or city, towns and starts at $35.
Please wait for your confirmation email to arrange pickup or delivery times.  Our customer support is available online. Reach us by e-mail or phone at any time.
FOR DELIVERIES:
Keep in mind, some orders may take up to 24 hrs for delivery.
CARGO CABBIE BOX SHOP may, at its discretion, make an exception to our rule, to making deliveries to only homes, condos and business addresses in designated delivery areas. Due to limited delivery capacity, these exceptions will be made daily on a first-come, first-serve basis. If business deliveries exceed capacity on the date you selected, we will contact you to reschedule the delivery of your order. We are sorry for any inconvenience.
Legal parking must be available for our delivery truck.
No parking restrictions or hours of operation can impede our ability to deliver between 8 a.m. and 6 p.m., Tuesdays, Thursdays and Saturdays
Because we use hand trucks and carts for deliveries, we require that all delivery areas be at least 1.3 m (4 feet) wide to allow enough space for this equipment.
Within multi-floor buildings, an elevator must be accessible for deliveries.
We can only deliver an order to the specified location in the invoice.
We cannot hand-carry delivery orders up or down stairs.
What To Expect: Orders over $200 before taxes and fees will be charged a $35 to $120 delivery surcharge depending on your delivery location. Please be aware that there may be a redelivery charge of up to $50 if we arrive at your home or office with a scheduled delivery order and no one is there to receive it.
Payment Options on Delivery
Payment for deliveries can be arranged with one of our box shop reps at any time online before delivery.
Our drivers do not accept cash, credit card or debit payments.
Get in touch with us to find out delivery rates if your home is outside of our local area in Etobicoke.
Typically delivery charges are between $35 to $120 approx.